Knowledge Base
Logging in
Tags:
login
users
passwords
user access
Description
The login URL for the application is https://go.engagephd.com. This can be accessed from most up to date web browsers so use your favorite and ensure you have the latest version installed. We recommend using Google Chrome.


As of June 30, 2017, we've increased security to:


a) force a password change every 3 months,
b) force use of at least one character of each - Uppercase, Lowercase and a Number and;
c) every time you login from a 'new device' you will have to respond to the action contained within a security email message before you can log in on any other device.
Resolution
When you login, you will receive a notification: "We've send an email to the email on your account to verify this device for your security."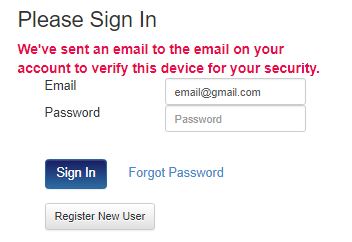 Be sure to check your spam folder and any email filters that might block emails from helpdesk@pinghd.com.
Once you receive the email, click the link to complete the authentication:

Use the password that you have previously used. You will be prompted to change your password once you login. Your new password must be at least 6 characters long, including upper case, lower case, and a number.


In the event you forget your password, then you can click on the "Forgot Password" link on the login page.

If you not have a login to the software, or have additional users who require restricted user acces, please contact your representative or email helpdesk@pinghd.com.





Related Topics:

Enhanced User Roles

Setting Up Additional Users